Walking through the streets — Photo by elle pupa


What is Pre Wedding Photography?
Pre wedding photography is a fairly new trend originating from Asia. You may be familiar with engagement photography, where couples wear more casual clothes and have a cute photo session. However, in pre wedding photography the shoot is usually done a few months before the wedding and the couples wear their wedding outfits. The actual day of the wedding has couples rushing all over the place and most of the photos are taken with friends and relatives. However, pre wedding photography allows couples to wear their beautiful wedding outfits, and pick their favorite poses and locations to save forever through photos.
Some couples will have the same pre wedding photographer as their wedding day photographer. This helps you to build rapport with the photographer and you will feel more at ease on your wedding day. Your photographer will also have the opportunity to learn about you and your partner, and how to work with you to produce the best possible photos.
Pre Wedding vs Engagement Photography
Although the terms are often used interchangeably, there is a slight difference between pre wedding and engagement photography. While both photo sessions are taken prior to the actual wedding day, pre wedding photography sees the couples wearing their full wedding outfits. Engagement photography, on the other hand, has the couples wearing clothes they would not wear on their wedding day, usually casual outfits.
Many couples like to use props and accessories to add to their photo — Photo by photoimagic

An engagement photo in the park, note the casual dress — Photo by mutenkashashindou
Popular Locations
Every couple is different and will have their own idea of what they want for their photos, but here are some popular options we've seen over the years.
Beaches
Many people dream of a beach photo shoot, the blue skies and clear waters make for a perfect background in any photo.
Tropical paradise! — Photo by Jayson Tanega Photography
Popular beach spots include Okinawa and Hawai'i — Photo by SUNBLOOM (KIKU)
Shoes always optional! — Photo by Yuki Ogawa
Parks and Gardens
Many couples choose to take their pre wedding photos in spring when the blossoming flowers create a beautiful colorful backdrop. Spring is also one of the more comfortable seasons for wearing a wedding dress outside.
This photo was taken in Hokkaido — Photo by B'point photo
A princess and her prince in the park — Photo by Wedding Howl
Among the sakura — Photo by STUDIO GIROUX
Buildings and Hotels
Historical buildings and hotels with strong architectural design give photos a classic feel. Hotel foyers, ballrooms, and grand staircases also make a stunning setting for pre wedding photos.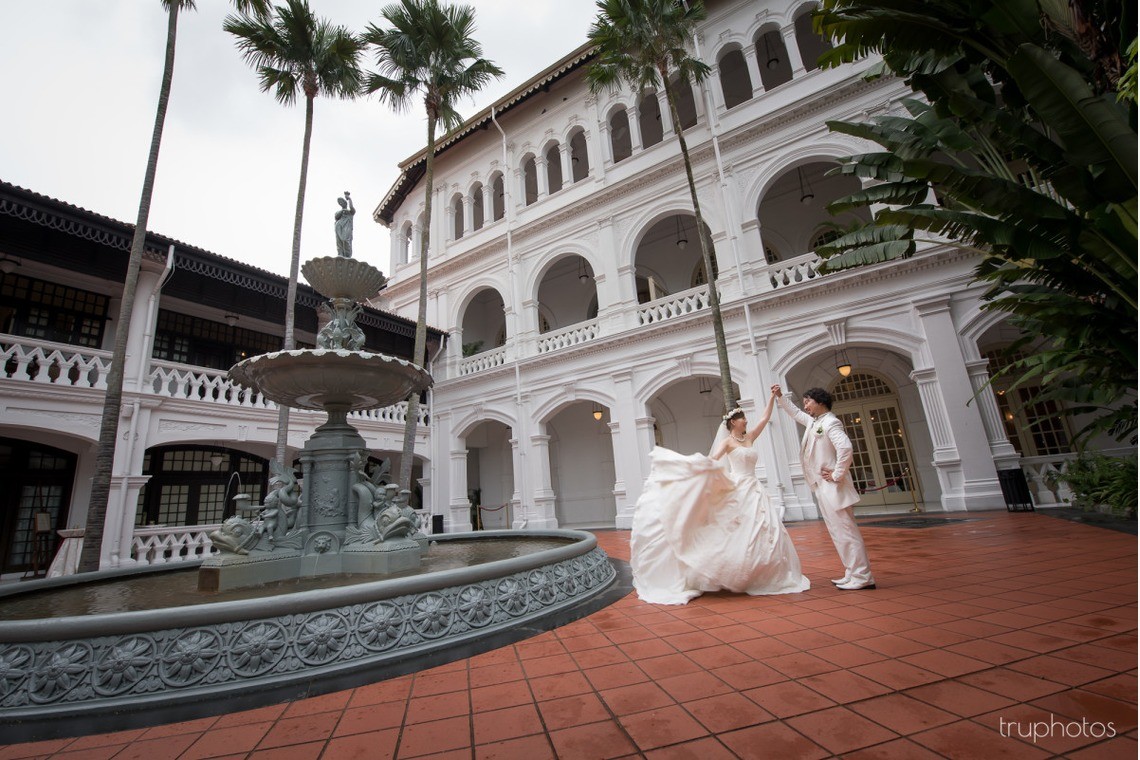 Elegance and grace — Photo by Truphotos
Smile! — Photo by EARTH COLORS
Classic and traditional — Photo by Murata Photo Works
Streets
Pre weddings photos on city streets appear like scenes from your very own movie. It's a super cute, casual and fun location for a shoot!
Recognize this Starbucks photo? — Photo by elle pupa
Out and about — Photo by banana monkey pictures
A runaway bride! — Photo by Yuki Ogawa
Tourist Hot Spots
Historical locations and tourist hot spots are popular settings for the many couples who decide to go overseas and do a destination photo shoot for their pre wedding photos.
A spectacular garden and popular tourist attraction! — Photo by Truphotos
The famous Shibuya Crossing! — Photo by An'z Photo
Downtown Honolulu is popular for locals and tourists alike — Photo by Jayson Tanega Photography
Hobbies
If you met through, or enjoy doing, a certain hobby together, why not capture it in your pre wedding pictures?
A great way to show personality — Photo by PANDA STUDIO JAPAN
Snow fun! — Photo by E-DETA FACTORY
Take me out to the ball game — Photo by studio LUCUSS
At the Wedding Venue
Wedding days are very hectic and have the bride and groom running all over the place. Pre wedding photography allows the couple to not only get to know their photographer better, but to also get some nice photos at the venue - almost like a practice round!
Congrats to Dan & Aya! — Photo by elle pupa
Just the two of us — Photo by KISA photography
So cute! — Photo by Lee bridal
School
Did you meet your honey through work or school? Taking photos at your old school or office makes for a beautiful picture — and story!
Love at first sight — Photo by Wedding MuskatDue
Me + You — Photo by HAYASHI PHOTO STUDIO
Pssst! — Photo by elle pupa
Want to See More?