There are many places to visit in Kyoto. Some locations have historical meaning. Some have beautiful nature. And some are just tourist traps. But for your photo shoot location, you'll want to have Kyoto pictures that highlight you and your partner/friend/family's personality and tastes. So, where are some places to go in Kyoto that provide the best photos?
Kyoto is known for its' beautiful cherry blossoms — Photo by Kai
Top 5 Popular Photo Spots in Kyoto
1. Ninnaji Temple (Kyoto, Japan)
Many popular tourists spots in this photo — Photo by YEWKONG Photography
You & Me — Photo by Katakura Photo Office
This temple in Kyoto is one of the most famous temples in the area for its' breathtaking sites in and around the area. Well known to be a popular spot in spring because of the many cherry blossoms that surround the area, other seasons have much to offer as well.
2. Arashiyama Bamboo Grove (Kyoto, Japan)
The Arashiyama Bamboo grove is popular for locals and tourists alike — Photo by 2 of us photography
The endless rows of bamboo stalks make for a beautiful photo op — Photo by Hayashi Photo Works
This historic site is famed for the bamboo grove that provides a stunning background for the perfect picture. Though the area itself has many popular tourist spots to see, the bamboo grove is most famous. The endless rows of green bamboo stalk provide a serene and calming atmosphere.
3. Keage Incline (Kyoto, Japan)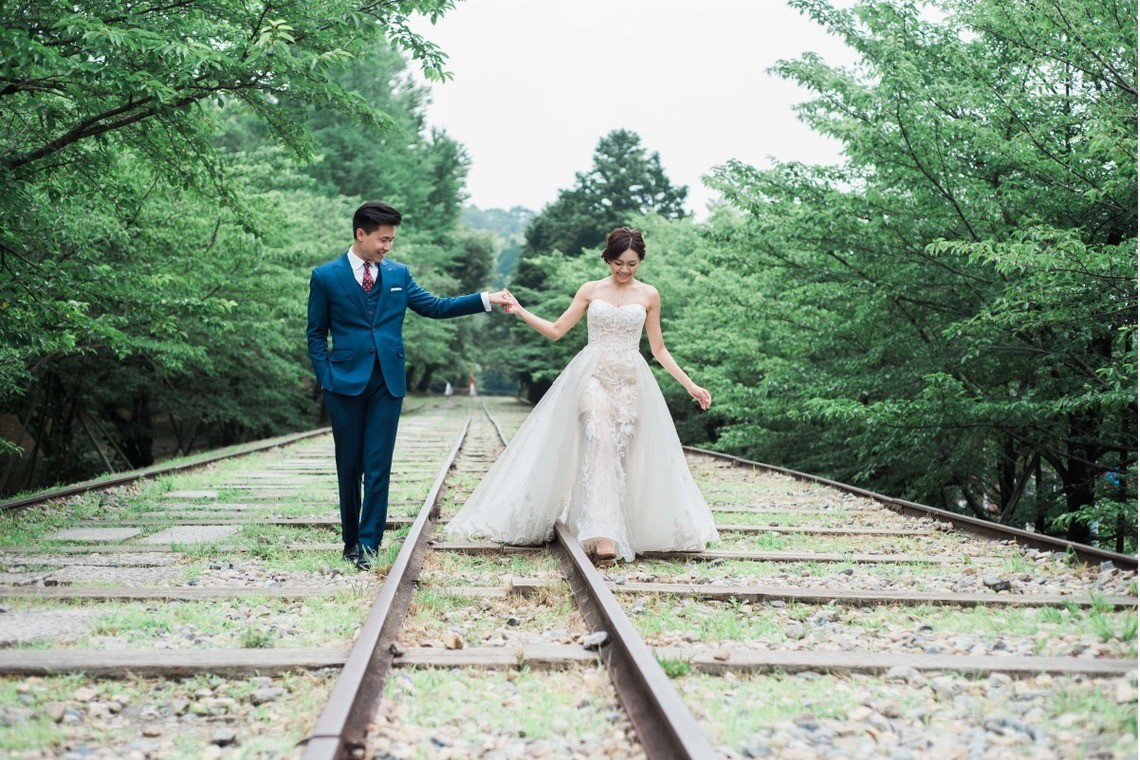 This ancient rail line is a beautiful spot for photos — Photo by Kai
Whether in spring or fall, the Keage Incline is a beautiful site! — Photo by elle pupa
Once used as a rail line, this old railway is lined with beautiful cherry blossoms and is known to be one of the best places to see them. A very popular photo spot for couples for its tranquil background that creates amazing photos.
4. Philosopher's Walk (Kyoto, Japan)
Cherry blossoms line the Philosopher's walk — Photo by Atelier Casha
Lined with many cherry blossom trees, this stone path is a popular spot in spring when the sakura are in full bloom. The Philosopher's walk, also known as Philosopher's path, is about 2 kilometers long and provides picturesque backgrounds fo every season.
5. Maruyama Park (Kyoto, Japan)
No matter the season, Kyoto provides beautiful photo spots! — Photo by Hayashi Photo Works
Kyoto has many nature photo spots — Photo by Hayashi Photo Works
Famed to be the most popular cherry blossom viewing spot, this park in Kyoto is the perfect spot for cherry blossom photos. The Maruyama Park is famous for having a weeping cherry tree that illuminates at night.
Kimono Rental in Kyoto
A kimono experience in Kyoto is quite easy to book. In fact, you'll see many people wearing kimono on the streets-- it's completely normal. Many of our customers at Famarry tend to rent their own kimono from online, and then order a freelance photographer in Kyoto to save money. Others prefer taking the easy route, and order photo shoot packages from our photographers who own a bridal salon.
You can order both kimono and bridal dresses from our photographers. If you have time for an advance fitting before your photo shoot date, let us know! You can also reserve specific patterns and designs by researching catalogues; the possibilities are endless!
Recommended Seasons for Photo Shoots in Kyoto
There are two seasons in Kyoto that we recommend for photo shoots: cherry blossom season and autumn leaves season. Cherry blossoms-- also known as sakura-- are popular due to their significance in Japanese literature and culture. They only last a short couple weeks, so careful planning and flexibility are important! Every year, the exact timing is different. It's too early to tell for 2019, but late-March to early April is usually the best time.
Beautiful cherry blossoms (sakura) in the spring — Photo by Murata Photo Works
The autumn leaves in Kyoto are also beautiful. Although the exact timing of Kyoto's fall foliage in 2019 is unknown as of know, we predict the leaves to change color in Mid-November to Early December.