The former capital of Japan, Kyoto has many beautiful, picturesque places to offer visitors. With many historical buildings and scenic gardens, the city has an abundance of picture spots all year round. The spring season brings cherry blossoms, sakura, and other beautiful flowers. While summer brings sunflowers and more flowers. The Autumn season brings beautiful and warm hues with the falling leaves. The winter season brings a pure white setting with snow!
See our most popular photographers!
Kyoto is known for its' beautiful cherry blossoms — Photo by Kai
Top 5 Popular Photo Spots in Kyoto
1. Ninna-ji (Ninnaji Temple)
Many popular tourists spots in this photo — Photo by YEWKONG Photography
You & Me — Photo by Katakura Photo Office
This temple in Kyoto is one of the most famous temples in the area for its' breathtaking sites in and around the area. Well known to be a popular spot in spring because of the many cherry blossoms that surround the area, other seasons have much to offer as well.
2. Arashiyama Bamboo Grove
The Arashiyama Bamboo grove is popular for locals and tourists alike — Photo by 2 of us photography
The endless rows of bamboo stalks make for a beautiful photo op — Photo by Hayashi Photo Works
This historic site is famed for the bamboo grove that provides a stunning background for the perfect picture. Though the area itself has many popular tourist spots to see, the bamboo grove is most famous. The endless rows of green bamboo stalk provide a serene and calming atmosphere.
3. Keage Incline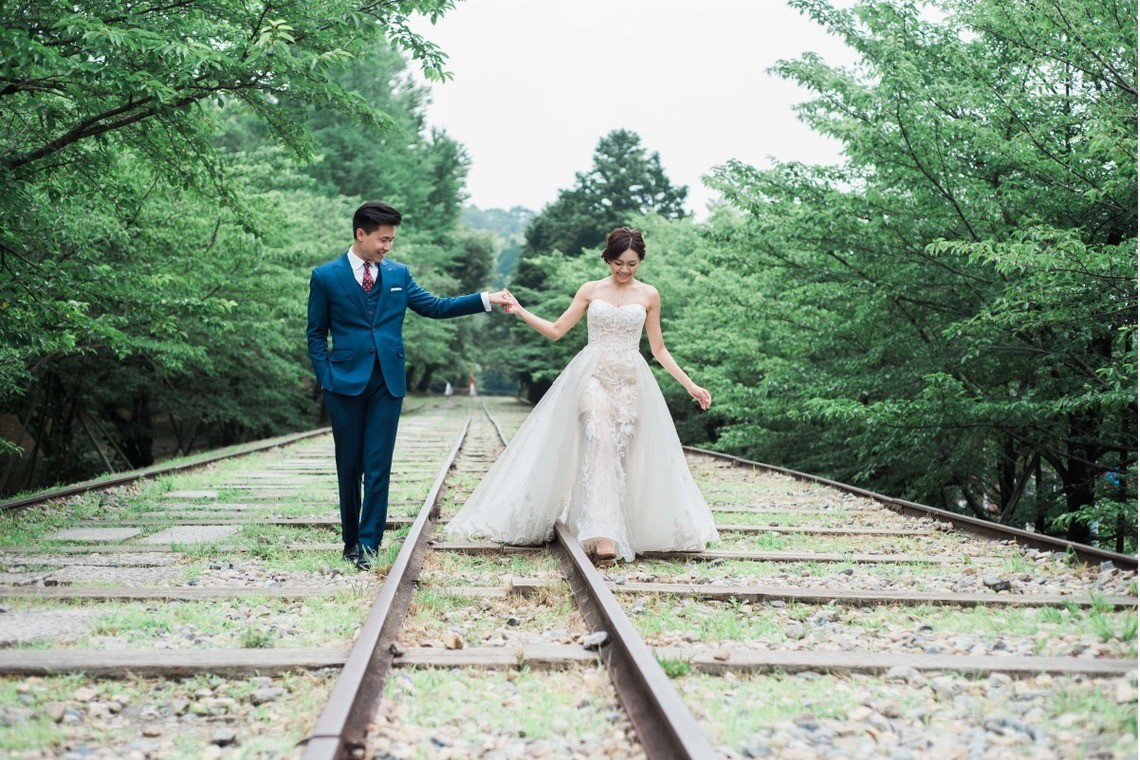 This ancient rail line is a beautiful spot for photos — Photo by Kai
Whether in spring or fall, the Keage Incline is a beautiful site! — Photo by elle pupa
Once used as a rail line, this old railway is lined with beautiful cherry blossoms and is known to be one of the best places to see them. A very popular photo spot for couples for its tranquil background that creates amazing photos.
4. Philosopher's Walk
Cherry blossoms line the Philosopher's walk — Photo by Atelier Casha
Beautiful cherry blossoms (sakura) in the spring — Photo by Murata Photo Works
Lined with many cherry blossom trees, this stone path is a popular spot in spring when the sakura are in full bloom. The Philosopher's walk, also known as Philosopher's path, is about 2 kilometers long and provides picturesque backgrounds fo every season.
5. Maruyama Park
No matter the season, Kyoto provides beautiful photo spots! — Photo by Hayashi Photo Works
Kyoto has many nature photo spots — Photo by Hayashi Photo Works
Famed to be the most popular cherry blossom viewing spot, this park in Kyoto is the perfect spot for cherry blossom photos. The Maruyama Park is famous for having a weeping cherry tree that illuminates at night.
Ready to Find Your Photographer?