Sayuri, the owner of a flower shop in the trendy neighborhood of Daikanyama, wanted a relaxed photo shoot with her husband before the arrival of their new baby. Here is their story...
Location: Daikanyama Flower Shop, "La Feuille"


Opened in 2012, the flower shop at which the couple decided to shoot is actually owned by Sayuri herself. Newly pregnant and wanting a calm and relaxed environment to take their photos, Sayuri and Satoru decided on a place that is familiar and special to them both.
Just Married!
Husband Satoru admires Sayuri's detailed dress.
3 Week Schedule Breakdown
Having only 3 weeks to prepare, Sayuri admitted that the process of getting ready for the shoot was a little troublesome but she shared her process with us. Despite the limited time she was able to get everything for the photo shoot prepared - even making her own accessories and bouquet!
| | |
| --- | --- |
| 3 weeks before the shoot | Sayuri spotted one of Famarry's campaigns via Instagram and contacted us for a photo shoot |
| 2 weeks before the shoot | The couple looked through Famarry photographers and decided to work with trickster photography. They then contacted us with a decided date. |
| 1.5 weeks before the shoot | Sayuri started searching for dresses. After a quick google search she found 2 dress shops in the area and checked them out. She chose a cute casual dress from an antique dress store in Nakameguro that would help cover her stomach. |
| 1 week before the shoot | Sayuri made all the accessories such as her hair piece and bouquet. She also arranged her husband's outfit for the photo shoot. |
| Day of the shoot | The couple met trickster photography (Atsuki Umeda) for the first time. The photo shoot started in the afternoon, with about 1.5 hours spent shooting in the flower shop studio, and 1 hour shooting outside. |
So happy together ♡
Hat's off to our photographer!
"Here, let me fix your necktie for you!"
"
Our photographer took all of our requests into consideration and we gave us exactly the kind of colorful photos we had hoped for! I was a bit worried about how the shoot would go at first because we had never met trickster photography before. Even though we'd exchanged a lot of messages through the Famarry website prior to the photo shoot, I still wasn't sure what kind of person he would be. However, I just knew I had to have my photos taken by him after seeing his work on Famarry's Instagram! Although his profile picture doesn't make him look very friendly, in reality he was really approachable and easy to talk to, and the shoot went ahead without any problems.
"
Part 2 of the Shoot: Outfit change!
Looking casual and cute in denim!
Changing to a more casual ensemble, the couple adorn matching denim and Sayuri adds a cute head piece. Even though these photos were taken in the same place, the change of outfit brings a different feeling to the picture.
Sunset Shoot at the Park
Gazing into the sunset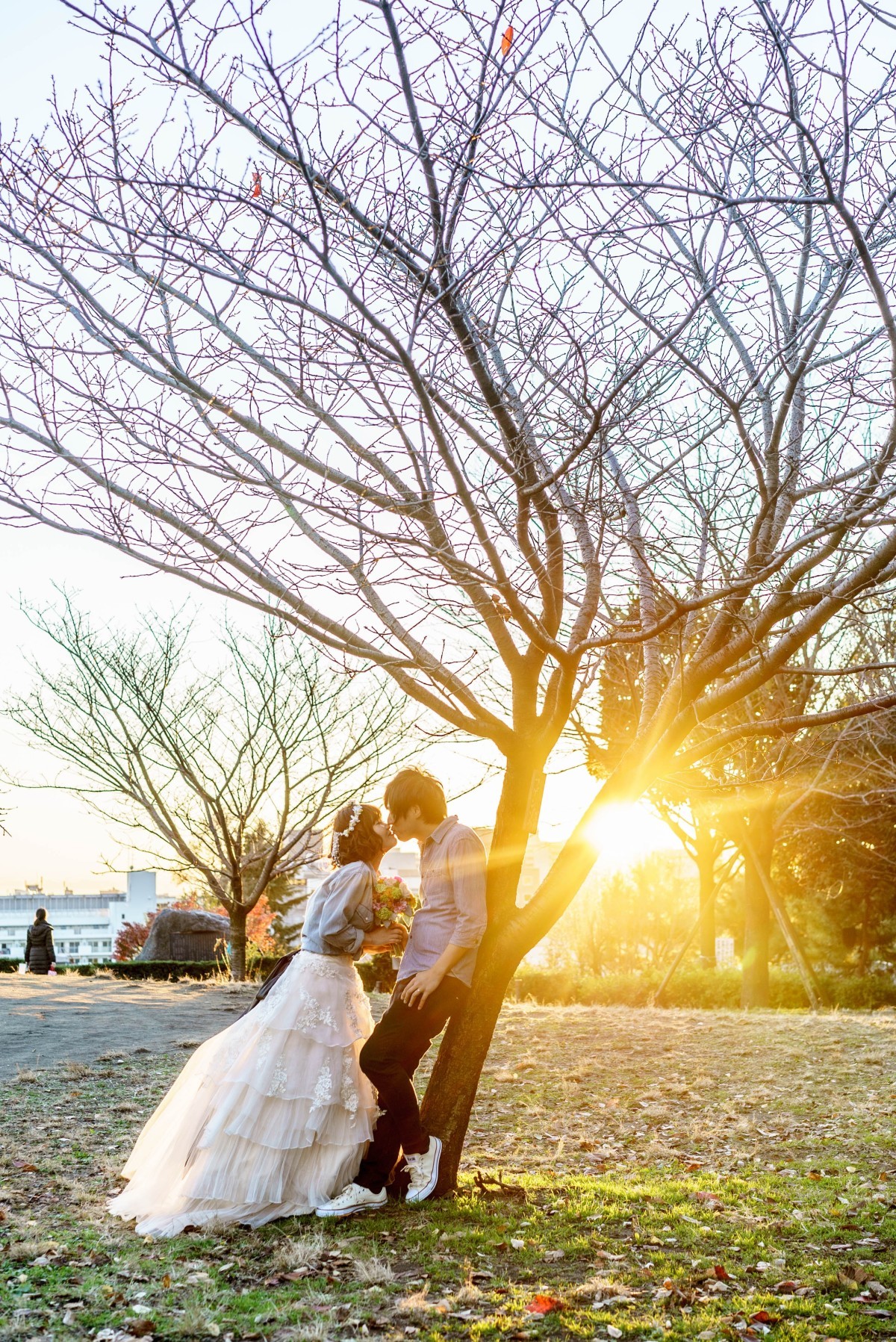 This was the bride's favorite photo!
In addition to the clothing change, the couple moved the second half of the photo shoot to a nearby park for some romantic sunset shots. Looking towards the future, the couple waits excitedly for their new bundle of joy.
Final Thoughts
Sayuri made all the bouquets and hair accessories herself!
"
Whenever you start searching anything to do with "wedding" you really get information overload! So it's important to take a step back and really discuss what kind of things you want with your partner. Despite the really tight schedule, we never forgot what we had envisioned together and I think that's what resulted in such a great photo shoot. I think others can have a really enjoyable photo session if they prepare things like different clothes, accessories, and photo ideas too.
"

Photo shoot location
La Feuille, Daikanyama, Tokyo
Photographer
*Names have been changed to protect privacy
See More Testimonials!