Q. How did you hear about Famarry?
I was a bit opposed to doing pre wedding photos at first. Mostly because of budget reasons, but I happened to see the pre wedding photos on the Famarry Instagram account and thought they looked great so decided to check out the website. The website had even more beautiful pictures and the campaign prices were within my budget so I decided to sign up!
Q. How long did it take you to prepare your dress and accessories?
My dress was actually handmade by my mom! After she found out the photo shoot date she rushed to get the dress together, that was about 2 months before the photo shoot. Everything else like Masaki's vest & necktie, the bouquet, hair ornaments, flower bracelet, and boutonniere, were all made by me♪
#DIYBRIDE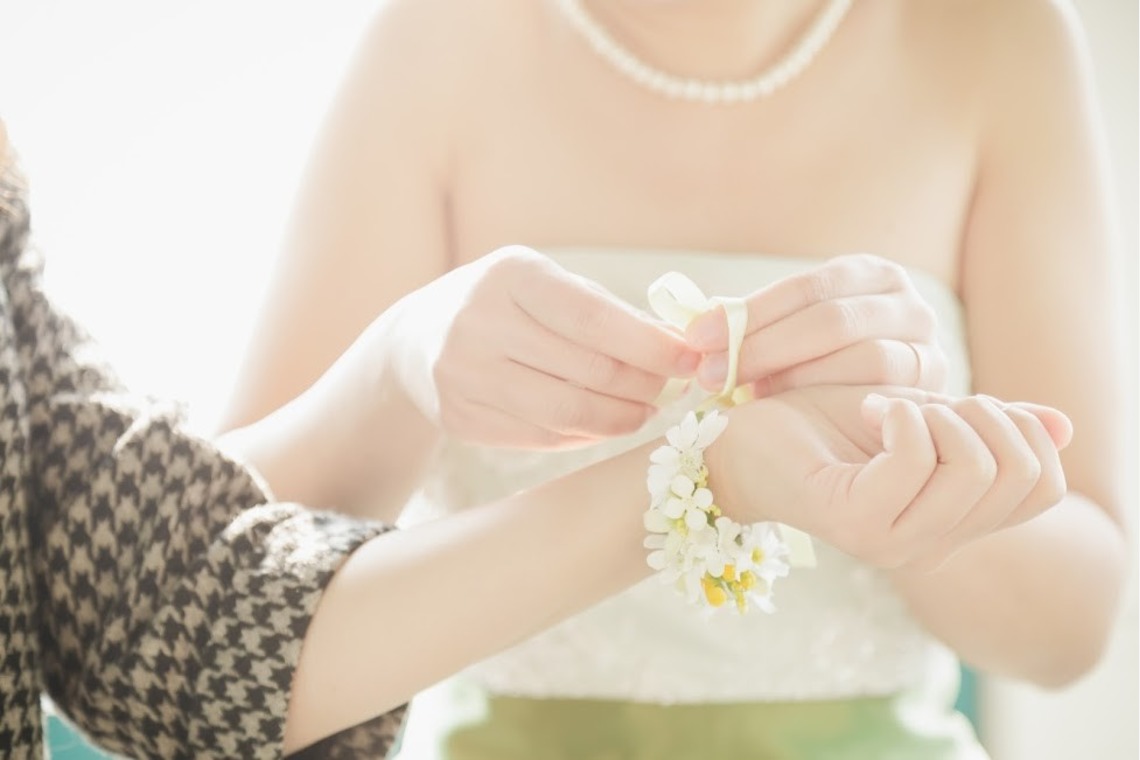 Q. What did you discuss with your photographer beforehand, and how?
We booked our photo shoot 2 months in advance and from the day we booked we used the Famarry messaging system to connect with our photographer to decide things like date, time, place, etc. We told her that we wanted to take our pictures somewhere in Hyogo prefecture that has a retro feel. She provided lots of suggestions and the Guggenheim house was one of them and we loved it! After that, we didn't really have any specific things we wanted for the photo shoot so we left it up to the photographer to decide our poses and things like that. Our photographer, Ako, was very friendly and sociable as well as very meticulous. She has a great eye for detail, so we were very happy!
And the photo shoot begins!
After quickly finishing her hair and makeup, the bride was just about to change into her dress when... Ako arrived!
The photo shoot began right then and there - Ako was sure to not miss this special shot! It's a fun and happy memory for the couple.
A private moment between two lovers♪
This is the bride Ai's favorite set from the photo shoot.
Just as he gives her the bouquet, Masaki cooly and softly whispers to his bride, "you're beautiful." ♡
Afterwards, the couple shares a giggle. This could easily be the scene out of a manga (Japanese comic).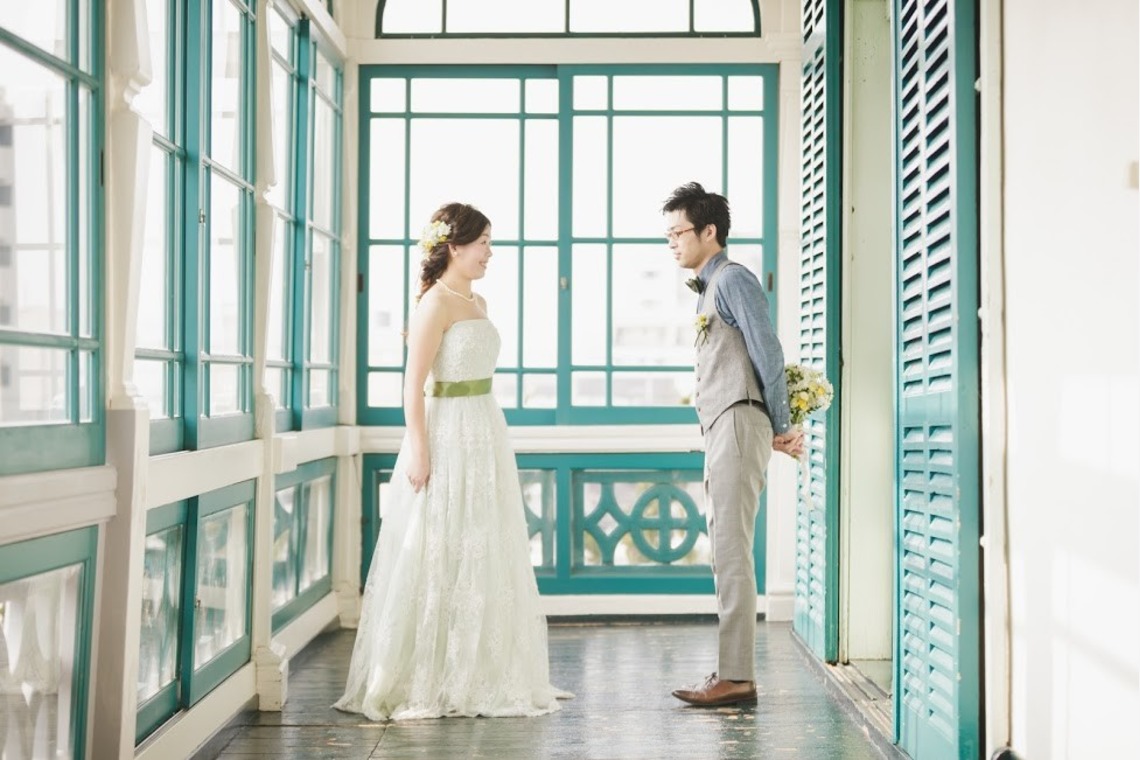 Retro stairs shot
Where words fail, music speaks
A scene where Ai and Masaki are in the piano room. Their eyes meet, and the world becomes their's...
Continuing the shoot outside...
Though their photo shoot took place in the winter time, the couple didn't let that stop them as they stepped outside to take some outdoor shots. Keeping warm with thermals and heat packs, they weren't even phased a bit.
"The shoot is so fun, we can't even feel the cold weather" the couple commented.
Let's dance♪
A shot frozen in time, Ai and Masaki share a dance together. We can see Ai's handmade dress in its entirety,
Thank you to the staff of the Guggenheim House♪
The staff were so helpful throughout the shoot, from carrying our coats to holding my dress, we were so thankful!
Best wishes to the happy couple!
The couple will have their wedding ceremony in the same Guggenheim House 7 months from now.
They plan to use these pre wedding photos for the decorations.
Incredibly satisfied with their photo shoot, Ai and Masaki are even more excited for their ceremony! ♡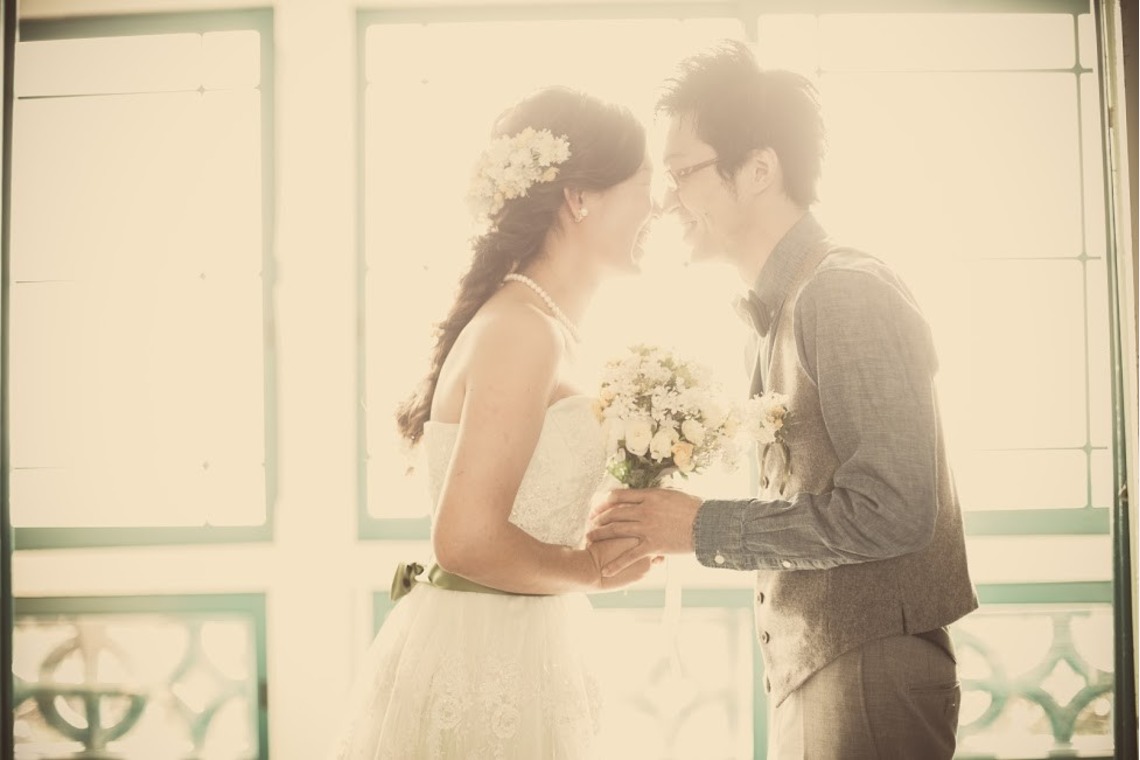 Photo shoot location
Guggenheim House, Kobe
Photographer

See More Testimonials!