Why Marunouchi
Mayu: Both our pre wedding photo session and wedding ceremony were held in Kansai so I really wanted to do a photo shoot in Tokyo as well. I thought this would be a great opportunity to take different photos to the ones we took in Kansai.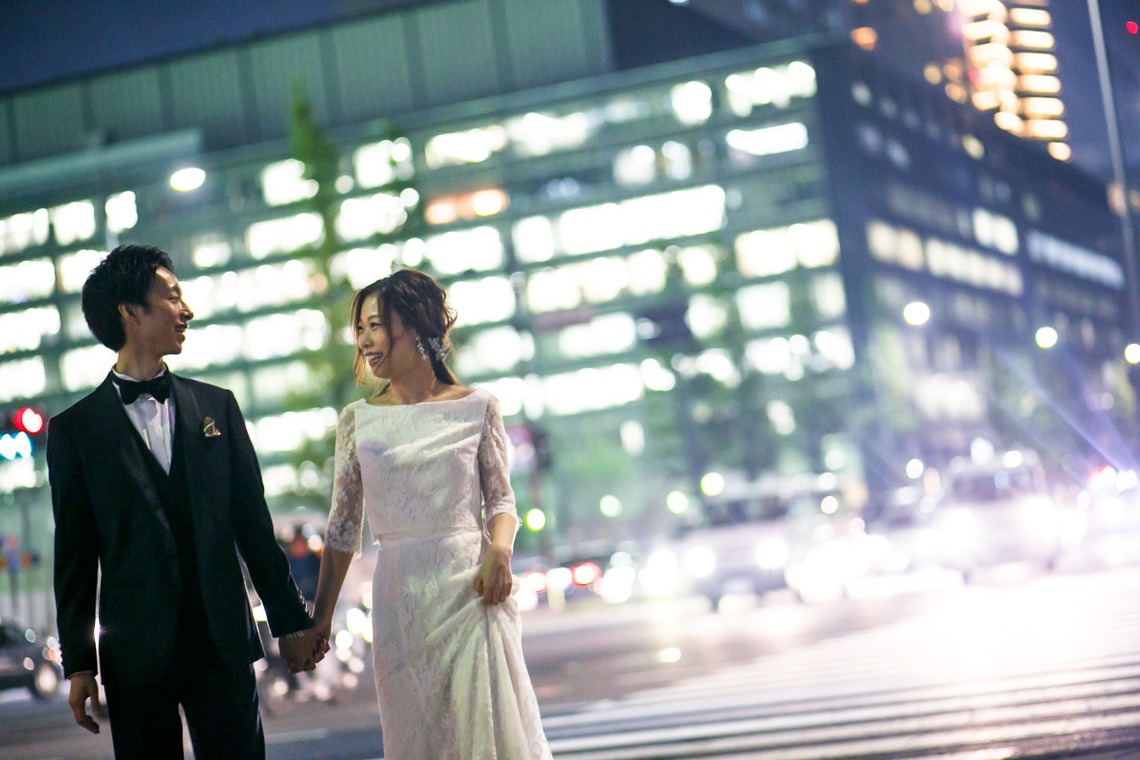 Mayu's Schedule up until the Photo Shoot
I was so happy to be chosen for Famarry's campaign! I was a bit worried because the photo shoot would be in the winter but thanks to a lot of heat packs, it was ok haha! I was also glad that there weren't too many people around at the time. We had a lot of time leading up to the photo session so I was able to take my time finding a dress and organising my hair & make up.
Late July


Marriage ceremony in Kansai


Mid September


Applied for Famarry's special campaign.


October
Got chosen for the campaign and decided on an after wedding shoot in Tokyo.
We were deciding between Tokyo Tower, Tokyo Sky Tree, and Tokyo Station area, in the end, we chose the Tokyo Station area in Marunouchi.

After deciding on our location, we took a look at Famarry's site to browse through the photographers that were in the area. We really liked Ayako Photography's photos and asked the Famarry team put us in touch with her.

End of October

Started looking for a dress and hair & makeup stylists.
Found a beautiful dress via THE DRESS ROOM and made a reservation.


Early November

Ordered a bouquet from a florist.
Hoping for a more mature look, chose a simple ponytail hairstyle at bottoms渋谷.


November 22
Day of the photo shoot. It was a weekday at night and there was great weather.
The photo shoot was from 4:30pm ~ 6:30 pm.

Our Favorite Shots:
Our decorated and framed "family rules". These are rules we have thought of together and promise to uphold. We really like the way the rules had turned out so we wanted a picture with them.
It was a huge must for Mayu to have this shot as it was the store where her ring was purchased.
Mayu: I didn't need to go in to much detail when talking to the photographer. I just said I wanted the shoot to include night shots, Tokyo Station and to a photo in front of Tiffany & Co.
Mayu: I felt a bit shy about taking kissing photos when we did our pre wedding and reception photo shoots. However, our photographer Ayako just said it so naturally "ok, now kiss!" haha! I still felt a bit embarrassed but I always wanted a photo like this so it's a great memory ♡
Adding the red cup — the photo shoot was in the beginning of winter, around the time Starbucks introduces their famous winter edition cups. Used as a prop for the photo shoot, the photo looks like it belongs in a magazine!
Just between you and me — we didn't even know Ayako had taken this photo until we received all the data! It's a nice photo that shows a nonchalant, happy couple.
A loving photo of the happy couple
A word of advice to future brides:
Mayu: I think everyone thinks "It would've been great if we did this!..." or has things that they wish they did but couldn't. An after wedding photo shoot provides a great opportunity to get exactly those shots!
Photo shoot location
(Tokyo Station Area) Marunouchi, Tokyo
Photographer
Ayako Photography
Photo Shoot Date: Nov 22
Check out Mayu's Instagram!
@m.wedding08
See More Testimonials!